Ton und Kirschen is a traveling theatre company that was founded in the spring of 1992 and has been at home in Werder (Havel) ever since. Rehearsals take place at a property in the Glindow district. This is where the sets are built and the props, costumes, masks and puppets are made. From here, Ton und Kirschen travels all over the state of Brandenburg with its productions. They set up their stage and seating in historical venues, in the middle of villages and even in fields. Each year they make guest appearances in Potsdam and Berlin and other German cities. Ton und Kirschen has often been invited to theatre festivals abroad. They have played in various European countries (Ireland, Poland, the Czech Republic, Russia, Belgium, Italy, Switzerland and regularly in France) and on several continents (Asia, North Africa and several times in South America).
There are currently nine members of the theatre's ensemble, who come from Germany, England, Wales, France, Italy and Colombia. Twenty-two productions have been brought to life under the artistic direction of David Johnston and Margarete Biereye, who both have an additional twenty years of theatre experience with the Footsbarn Traveling Theatre.
Ton und Kirschen received the theatre prize from The Academy of Arts, Berlin en 1998; In August 1997, Bouchon d'Or in Cognac, and in May 1998 the prize of the International Theatre Festival Kontakt in Torun, Poland.
ARTISTIC DIRECTORS Margarete Biereye and David Johnston
ENSEMBLE Joséphine Auffray, Margarete Biereye, Francesco Bifano, Régis Gergouin, David Johnston, Rob Wyn Jones, Nelson Leon, Zina Méziat, Daisy Watkiss
PRODUCTION MANAGER Catherine Launay
Ton und Kirschen is sponsored by the Ministerium für Wissenschaft, Forschung und Kultur des Landes Brandenburg and the Potsdam Mittelmark Cultural Service.
MARGARETE BIEREYE
Born in 1945 in Burg/Fehmarn (Germany)
Folkwang-Hochschule Essen (1967-70)
Stadttheater Hildesheim (1970-71)
École Internationale de Théâtre Jacques Lecoq (1971-73)
Director and actor with the Footsbarn Traveling Theatre (1973-1992)
Founded Ton und Kirschen Theater in 1992
FRANCESCO BIFANO
Born in 1974 (Italy) 1995-98 Theatre School Lab9 Florence
1998-99 Fede Speranza Carità – Massimo Castri
1999-2008 work with various theatre companies
2008-2020 Slava's Snow Show – Slava Polunin
Since 2020 actor with Ton und Kirschen Theater
RÉGIS GERGOUIN
Born in 1971 in Nantes (France)
1989 training as a sign painter
1993 – 1998 work with various theatre companies in Nancy (France)
Since 1999 technician at Ton und Kirschen Theater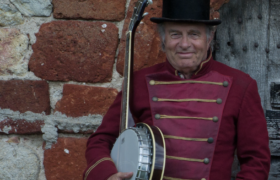 DAVID JOHNSTON
Born in 1947 in London (England)
Technician at the Sadler's Wells Opera and other London theatres. Actor with the National Youth Theatre. Singer in a rock band.
Director and actor with the Footsbarn Travelling Theatre (1972-1992)
Founded Ton und Kirschen Theater in 1992
ROB WYN JONES
Born in 1965 in Pontypool (Wales)
Training at the École Internationale de Théâtre Jacques Lecoq and Firenza Guidi of ELAN, Wales
Productions with ELAN (GB/I); AGORA (B) and the Markus Zohner Theater Company (CH); Staatstheater Stuttgart.
Intensive clown work in Baveria and now in Berlin/Brandenburg. Performances in 23 countries and in 7 languages.
Since 2011 actor with Ton und Kirschen Theater
NELSON LEON
Born in 1970 in Pereira (Colombia)
Founder of the company Alcaravan Teatro; mask and puppet builder for various street theatre companies.
1994 Teatro Taller de Colombia, Bogota.
Since 1997 actor, puppeteer and technician at Ton und Kirschen Theater.
Together with Daisy Watkiss, Nelson regularly develops and holds workshops on theatre and puppet/object manipulation for professionals, amateurs, children and adults.
ZINA-LUZIA MÉZIAT
Born in 2001 in Bordeaux (France)
Abitur Juni 2019 in Paris. Erste Theatererfahrung beim Footsbarn Travelling Theatre und Ton und Kirschen Theater. Im Jahr 2010 spielte sie in einer Hauptrolle in dem Stück « Sun » vom Kollektiv MxM, Regie von Cyril Teste und trat mit dieser Produktion im Festival d'Avignon 2011 auf. Zurzeit studiert sie an der École Internationale de Théâtre Jacques Lecoq in Paris.
DAISY WATKISS
Born in 1976 in Plymouth (England)
aufgewachsen beim Footsbarn Travelling Theatre seit 1993 Bühnenbildnerin und Marionettenspielerin beim Ton und Kirschen Theater. Daisy entwickelt und leitet regelmäßig Workshops mit Nelson Leon über Theater und Puppen-/Objektmanipulation für Profis, Amateure, Kinder und Erwachsene.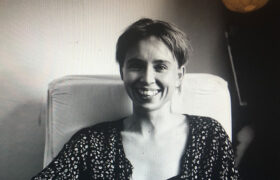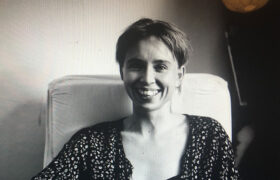 JOSEPHINE AUFFRAY
Born 1995 in France, started with classical and contemporary dance at the Conservatoire de Nantes (2010-2014). Afterwards, she studied
zeitgenössischen Tanz und Choreografie an der Laban School in London (2015-2018), sowie an der Folkwang Universität der Künste in Essen (2017). Seit 2018, lebt sie alsfreischaffende Tänzerin/Performerin in Berlin und ist an zahlreichen interdisziplinären Projekten beteiligt. Zurzeit arbeitet sie beim Ton und Kirschen.
JULIE BIEREYE
Born in 1978 in Launceston (UK) Since birth I have accompanied my parents on tour with Footsbarn Travelling Theatre. At the age of 15 I started my own career as an actress/musician. I worked for several years at Ton und Kirschen Theater, Petit Théâtre de Pain, Footsbarn Travelling Theatre and Teatro del Silencio.
CATHERINE LAUNAY
Born in 1973 in Châtellerault (France)
She has lived and worked in Berlin since 1999. She is a cultural manager and production manager in the areas of performance, theatre, musical theatre, dance and sound art in Berlin and France. Since 2011, she has worked as a tour manager for Ton und Kirschen Theater.
www.catherinelaunay.com